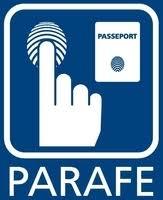 Are your travellers aware of PARAFE?
Save time with the automated immigration gates! Skip the long queues at border control and utilise the free PARAFE gates at Paris Charles de Gaulle & Paris-Orly airports.
The self service option for both departing and arriving passengers.
PARAFE is a self service automated function using biometric technology to help you cross borders faster and independently. This service is valid for European citizens holding a biometric passport.  
Paris Aéroport together with the Ministry of Home Affairs have deployed within Paris-Charles de Gaulle and Paris-Orly airports a new generation of gates which includes facial authentication technology.
The 2 different options for this service :  - Facial authentication (passport, boarding pass and face) - Fingerprint authentication (passport, boarding pass and fingerprint)  
Automated clearance
Facial authentication : a faster way to clear immigration (10 to15 sec) 21 gates at Paris-CDG and 15 gates at Paris-Orly
Eligibility: Be over 18 years old, hold a biometric passport, be a national of one of the 28 countries of the EU, plus Switzerland, Iceland, Liechtenstein and Norway.
How it works
1  Proceed to the automated gate (green colour).

2  Scan your passport.

3  When your passport is read, the doors opens.

4  Enter the gate and step on the marks on the floor.

5  Stare at the camera.

6  When the green arrow shows on the screen, the second door will open.
Fingerprint authentication (30 seconds), 42 gates at Paris-CDG
Eligibility: Holders of a biometric passport (French, Belgian, German, Luxembourgian) do not need to enrol beforehand.
For electronic passports, the enrolment is necessary and can be done directly at Paris-CDG airport.
How it works
1  Proceed to the gate

2  Follow the instructions displayed on the screen

3  Enter

4  Place your thumb firmly on the scanner
How to recognize a biometric passport
All passports issued since 29th June 2009 are biometric.
Biometric passport  the word "passport" is underlined, a secure symbol (circle inside a rectangle) shows under the word passport.
Your picture is printed twice on the main page.  
Enrolment locations
Paris-Charles de Gaulle
Terminal 2E : near exit 10 Departure level (open monday to friday 6.30am to 12.30pm  1.30pm to 3.15pm)
Paris-Orly - The enrolment location is now closed.
Location of PARAFE gates
Paris-Charles de Gaulle
Terminals 2E, 2F, 2G  Terminals 2A, 2C, 2D Terminal 1  & Terminal 3
Paris-Orly
Terminal Sud  & Terminal Ouest