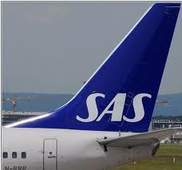 We would like to remind you on the changes to the previous SAS Credits programme.  
SAS Credits has been replaced by the new company offering SAS for Business. SAS Credits is being phased out, which means that withdrawal of earned SAS Credits is possible until the 31st of December 2018 (note that the trip can start later and Rezidor vouchers can be used later).  
So please make sure you are utlising those accrued points!
 At SAS, they value your time. Therefore, they have simplified the program to reduce the amount of time spent on travel administration. As an SAS for Business member, your discounts will now be activated directly when you book your ticket. The discount varies according to your company's annual spend and also on whether you travel in SAS Go, SAS Plus or SAS Business.

Member customers will get a 2 % discount in SAS Business and SAS Plus and 1 % discount in SAS Go
Select customers will get a 6 % discount in SAS Business and SAS Plus, and 2 % discount in SAS Go
SAS will offer discounted fares with their partners Singapore Airlines and Widerøe
In addition to the company receiving discounts, the traveller will be able to claim their own personal EuroBonus or participating mileage program points.
If you were previously a SAS Credits member you have automatically been transferred to the new programme and will be receiving the discounted fares, no action is required.
To enrol for SAS for Business and benefit on discounts with SAS & partner airlines please click here!