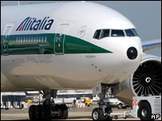 Alitalia cancel hundreds of flights due to strike action
Alitalia has been forced to cancel several flights scheduled for Wednesday 9th October, due to 24-hour air transport sector strike confirmed by some Italian trade unions. 
Flights set to operate on the 9th October during the peak times between 7 am to 10 am and from 6 pm to 9 pm will operate as scheduled.
Some flights on the late evening of Tuesday 8th October and the early morning of Thursday 10th October have also had to be cancelled due to the 24-hour strikes.