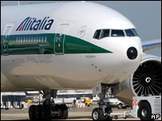 Alitalia cancels flights during strike action on 25 October
Alitalia has had to cancel several flights scheduled for Friday 25th October due to strike action confirmed by the Italian trade unions. 
Four-hour air traffic controllers strike from 1 pm to 5 pm as well as other strikes in the aviation sector with durations varying from 4 hours to 24 hours will take place.  
Flights operating on Friday 25th October during the peak times between 7 am to 10 am and from 6 pm to 9 pm will operate as scheduled.