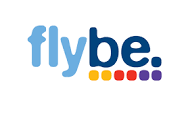 Flybe Cabin Baggage Reminder
Flybe are reminding passengers of their cabin baggage dimensions as their overhead lockers are smaller than on other aircraft.
Passengers travelling on Flybe, Blue Island, Eastern Airways and Stobart Air may carry onboard:
MAXIMUM
Cabin bag size is 55 x 35 x 20cm
Wheels and handles must fit into the Flybe baggage sizer.  
PLUS
One small personal bag that can fit under the seat in front
(handbag/laptop case)
Maximum combined weight 10kgs.  
Any cabin bag that exceeds these dimensions will be charged £40 (£50 at the gate) by credit card and bags will be placed into the hold.