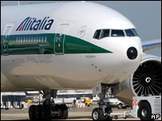 Nationwide transport strikes get underway in Italy
Potential disruption is expected in Italy on Wednesday 24th July and Friday 26th July from nationwide transport strikes.
The national strike on Wednesday 24th July will affect all public transport, including taxis, buses, trains and ferries.
The strike on Friday 26th July will also affect air travel and disruption is expected at airports throughout Italy with national airline Alitalia staff and other airport workers staging strikes planned to last from four to 24 hours.
The strike action has been called by trade unions protesting proposed new government transport plans.