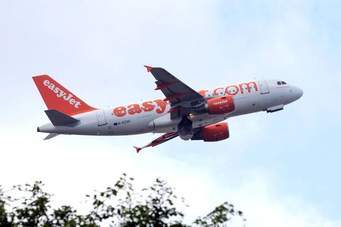 EasyJet continues to cancel 30 flights a day because of 'ongoing' challenges; long queues reported at several airports
Even more EasyJet passengers will be hit by flight cancellations as the airline says it will continue to ground 30 flights a day as holidaymakers continue to face chaos at airports.
The airline said passengers will likely be told three days before if their flight is canceled and blamed the issues on "ongoing challenges" in the industry.
With 2,864 departures from the U.K. today and the same number of inbound flights, it will be the busiest day for air travel since before the pandemic.
And further queues were seen this morning at airports including Stansted, Manchester, Bristol and Edinburgh after 15,000 people were hit yesterday by last-minute changes. Experts say it will take three days to clear the backlog.
But the chaos is unlikely to end there with EasyJet believing it will see "similar" cancellations 'to the levels in recent days' of around 30, mainly from its main airport of Gatwick.
A spokeswoman for EasyJet told the MailOnline: "Due to the ongoing challenging operating environment, we expect to see similar levels of advance cancellations in the coming days of around 30 flights a day. We continue to monitor the situation closely and take action in advance where possible."