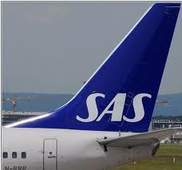 Pilots strike cancels hundreds of SAS flights on 14th July as talks to end strike continue
SAS (SAS.ST) said on Thursday a pilot strike now in its 11th day threatened the airline's ability to access bridge financing without which it may be forced to radically downsize or could collapse.  
SAS and unions were locked in more talks on Thursday to end a strike among most of its pilots at the peak of the holiday travel season, over conditions related to the Scandinavian carrier's rescue plan.  
The carrier, whose main owners are the governments of Sweden and Denmark, cancelled 201 flights on Thursday, or 64% of those scheduled, according to FlightAware.  
SAS said the strike so far had caused 2,550 flight cancellations, affecting 270,000 passengers, and cost it between $94 million and $123 million.